Today we're breaking down our Airtable review from one of our recent episodes from The Experience.
Watch on Youtube or Listen on Apple, Spotify or Google.
If you're not familiar with Airtable, they've raised $170M with a mission to democratize software. Most associate them with powerful spreadsheets + databases but clearly they want more.
According to Airtable, their product allows you to —
Create, your way. Part spreadsheet, part database, and entirely flexible, teams use Airtable to organize their work, their way.
Their Co-Founder / CEO, Howie realized the need when he saw his previous company using excel for more than just number crunching. 90% of his co-workers were using excel to simply organize information.
The company views itself as a platform that organizations can leverage to build their own workflows. It doesn't matter what type of company either. They are building the platform as agnostic as they can.
And to their credit, they have created a groundbreaking product.
I've personally used this product with several different businesses and it's worked really well for each of my use cases. Managing an editorial team, product management to simple lead form submissions.
Like most of these reviews, we breakdown what we love the overall experience but also offer a few critiques based on using the product. With all that being said, let's dive into our Airtable review.
Highlights: A lot to like.
As you may have already picked up. There's a lot to like with Airtable. It's flexible, it's polished and it's powerful.
Not just numbers and text.
One of the more interesting things, in my opinion, is the ability to organize all types of data. From attachments, photos and more you can get pretty creative quickly.
Views for Days.
A big push from Airtable that I've said is their expansion of views of your data. The latest one was focused on their new gantt chart view. Regardless, the 'views' option in Airtable enables you to showcase data is so many ways. Not only is this feature powerful but from an experience standpoint, it just feels so smooth and clean.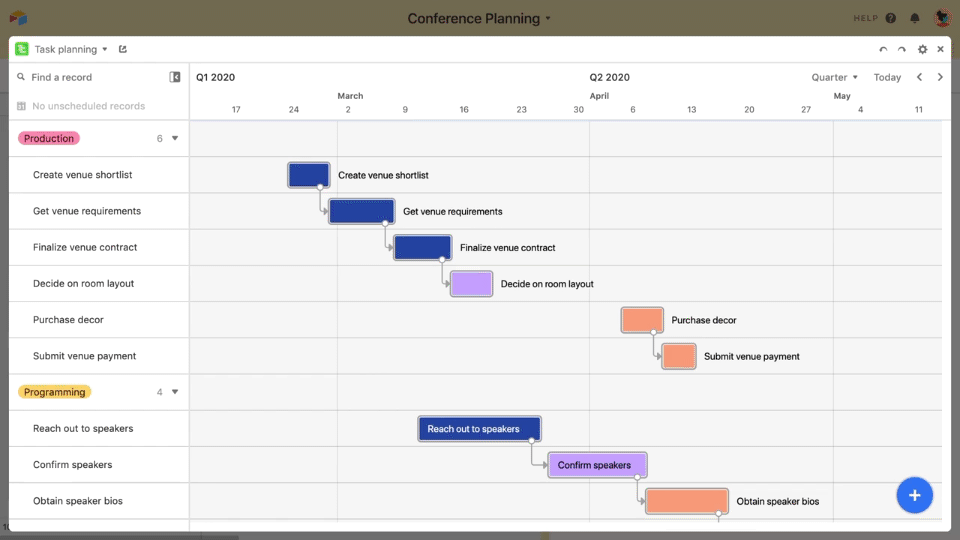 Templates on Templates.
When I first started using and reviewing Airtable, the templates were a lifesaver. Even as a long time user, I still find the templates really useful.
I'm not just talking about a sample layout to play with. I'm talking there's a template for literally any sort of niche you can think of.
Familiarity breeds adoption.
I'm a big believer that when you're building a product (especially carving out something new) that having a familiar experience can help breed adoption. When you first start using Airtable, there's obviously a familiarity to a spreadsheet. The tabs, the columns, the rows, etc.
Without even realizing it, users are creating their own database schemas and then viewing it any view they want.
To me, this is the real magic behind Airtable. And it's more of a subtlety I noticed that a majority of their users will never even realize.
Freedom to Stay or Go.
Looking at Airtable from a customer retention perspective, there's a lot they are getting right.
Even something as simple as the cancellation process feels freeing to be able to have a choice to continue with the product. / plan.
Surprisingly as we've been building Weav this is an area that's overlooked. The cancellation process and overall churn signals never get the same amount of love that the rest of the product gets.
They are definitely off to a good start. I'd love to see them invest more here.
Drawbacks: A lot to take in.
Trying to be something for everyone.
Very few companies have successfully been something good for everyone. Not saying they can't do it but they've hit the mark on something great for select people.
My introduction to Airtable was in 2017 when my content team asked if they could use Airtable to manage their content schedule and writers.
On the contrary, a fresh customer looking at Airtable without context seemed confusing. In the episode, I was trying to explain Airtable to Clayton and he didn't know who the product was for or what he should use it for.
I understand the whole "create, your way" but it seems rushed to expand this fast.
Bottom line is, who is Airtable targeting? With that much funding do they even care to know right now?
Slow development process. Users feeling "unheard".
As Airtable grows a more loyal user base, one of the hot topics on Reddit is its slow development cycles to release updates the community is asking for.
More issues surrounding their slow iOS app (App Store reviews), to asking for more basic features like folders, permissions (coming soon maybe?) on tables and fields and more.
Understandable to have some feature requests. But it seems like these are issues that have been brought up by a lot of people and it feels like no one at Airtable is listening. Or even responding to their users.
Final thoughts
Big funding.
All-star team.
Loyal user base.
I think Airtable will be just fine.
The overall review of Airtable is top-notch. The experience of the product itself is solid. Their product marketing and position feel like it could use some more focus.
As they continue to ride the wave they are on, I hope they stop to focus on what got them to this point and maintain a focus on their early loyalists. It's exciting to chase the next carrot but don't forget what got you there.